Up Scope
Developer: Grand Productions Inc.
Launch date: 1986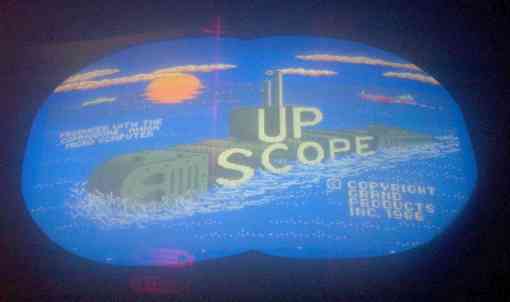 The Up Scope is an arcade machine based upon the A1000 motherboard and a specially designed EPROM daughter board. As can be seen by the images, the cabinet is shaped like a submarine periscope. Two buttons are located on each periscope handle - Up, Down and two fire buttons. The aim of the game is to attack the sub hunter while sinking as many ships as possible. If you miss the sub hunter it goes to another level where it drops depth charges while the player waits to fire a torpedo.
Related Pages
More information on the Up Scope arcade machine can be found at the following locations:
The Big Book of Amiga Hardware's Up Scope page
KLOV.com's Up Scope page
The graphics on this page are copyright 'Mad Gun' of Binary Assault and are used without permission. If Mr. Gun is reading this please contact me at gknight@emugaming.com.
BACK
Last Update: 22/6/2002