Riverboat Queen
Developer: VGT, Inc
Available: 1992 - 1996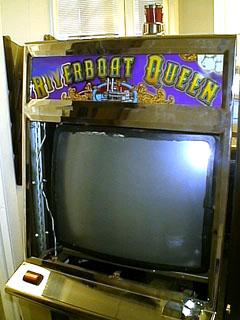 The Riverboat Queen was VGT's first foray into the video game machine market. The machine consists of two components - an Amiga 500 and a Sebastian board that allowed the Amiga to interface with the touch screen controls and slot interface. Ten games were available for the unit, including Draw Poker. These games were developed by several Amiga programmers including Bill Evans, who may be familiar to Video Toaster/Flyer users.
VGT received a Gaming license and regulatory approval to sell the Riverboat Queen only in the State of Louisiana. The product line was sold in 1993 to Si Redd (founder and former chairman of International Game Technology which is based in Las Vegas, Nevada, and is the world's largest supplier of video and mechanical gaming machines).
Thanks to Kermit Woodall for graphics and textual information.
BACK
Last Update: 22/6/2002