Nokia Media Terminal
Manufacturer: Nokia
Product demonstrated: November 16-17, 2000
Deal announced: February 23rd 2002
Cancelled: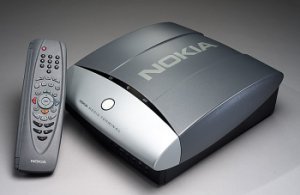 Many Amiga fans were shocked at the news that Amiga Inc. had partnered with Nokia. The company had (perhaps unfairly) attracted an image for announcing meaningless partnerships (the RedHat announcement) or products that have been significantly delayed (the Sharp deal). The Nokia continued this trend by being canceled before it was released. In a shocking announcement, Nokia announced that the product was dead before informing Amiga Inc. and their other partners. It has been speculated that the deal was originally arranged by Dr. Pentti Kouri, a Nokia shareholder and Invisible Hand managing partner who has financed Amiga Inc. in the past.
Before it was canceled the MediaTerminal attracted some impressive awards. Most notable, it won the 'Excellence in Swedish Design' Award, the 'iF Product Design' Award and TechTV's Best of the Consumer Electronics Show (CES) Award.
CPU
Intel Celeron ® 566 Mhz CPU or faster
Hard disk
40GB (or more)
Memory
64 MB system memory (SDRAM)
Internet connectivity
Integrated V.90 POTS modem
OS and applications

Linux Operating System
Mozilla open source browser
Email client (supports SMTP, POP3, NNTP protocols)
The machine itself is based upon a standard Intel Celeron processor, equipped with 64MB SDRAM and a 40GB hard disk. It is marketed as an 'infotainment device' that combines the benefits of digital television, personal video recorder, and an Internet terminal. In other words, it's a 21st century CDTV that will sit in your living room and provide another method of interacting with your television. For more information on the hardware and software, take a look at the system specs.
The company has used the open source card to their advantage, providing an integrated suite of applications specifically tailored to a television display. Commendably, they are actively supporting open source initiatives to develop Linux-based entertainment applications and returning relevant source code to the developer community for further development. This has benefits for all parties. For more information see relevant sites at the bottom of the page.
Once the user has connected the machine they will be presented with a customized interface that will allow the user to perform several tasks - such as surf the Internet, chat online, record a movie, or download an MP3 - using the installed Linux operating system. The Linux-based Amiga DE will be integrated with several applications, including the open source Netscape offshoot, Mozilla, providing the customer with a method of downloading and running Amiga DE and Java products. The customer is unlikely to be aware that they are using an Amiga application, they will simply view it as another method of using the device.
Related Documents
Amiga Press Release (23rd February 2002)
Media Terminal system specifications

Relevant sites
LinuxTV - projects to provide DVD, DVB support for Linux
Interactive TV Today - Relevant information on the interactive TV market

Last Update: 1/8/2002