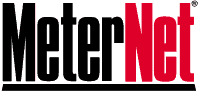 MeterNet are an American company focussed upon the set-top and internet device market. Their first product line was based on the Winbond PA-RISC platform and used a tailored Access Netfront v2.5 browser to provide functionality. The company announced a partnership with Amiga Inc. to develop their second generation set-top box hardware on September 20 2000. The press release promoted the benefits of the partnership:
"With this long term Amiga partnership, our SimpleBox Program has been dramatically extended and strengthened to integrate next generation technologies tailored for our target markets," said Greg Wible, MeterNet President. "We plan to generate interest in our broadband device products from new user markets along with Amiga community members."
The development of embedded, instant-on, internet-connected hardware was a common goal of the early digital convergence market and remains relevant in the entertainment industry today. If the company could develop a cost-effective platform for delivering services, they would have been in a strong position to licence the technology to cable providers and entertainment companies. Amiga Inc. were to provide the software components that would run on their mid-range SimpleBox JID (Java Integrated Device) wb8600 series.
The company web site indicated development of the Java Integrated Device would be separated into two phases:
Integration of Amiga DE into x86-based embedded hardware.
Development of a RISC-based SimpleBox device and refinement of the Amiga DE to run on the new hardware.
Two 'Phase One' devices were revealed to the public that were due for release in early 2001. However, the Meternet web site later indicated the devices had been cancelled in favour of development of 'Phase Two' RISC-based hardware. All reference to Amiga-based products were removed from the company web site in 2002 when they announced that talks for 'Custom Branded Networks' to purchase the company had ended.
SimpleBox wb8616JID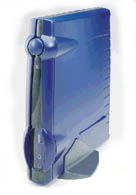 Developer:
Meternet
Announced:
September 20, 2000
Planned release date:
v1.0 - January 2001
v1.1 - Febuary-March 2001
Price (preliminary)
US$399 + shipping/handling
The first device to be announced was the SimpleBox wb8616JID - an x86-based device that would be developed to test interest in the technology and encourage further investment. The box shot above is an early prototype model and does not necesasrily indicate the appearance of the final product, if it had been launched.
The Phase One device would use the following hardware:
| | |
| --- | --- |
| Processor: | NS Geode GX1 266 Mhz |
| Graphics controller: | Integrated NS 5530a Chipset |
| Memory: | 32 MB RAM |
| Storage: | 16 MB Compact Flash |
| Network: | 10/100 Fast Ethernet |
| Display: | VGA and TV (PAL/NTSC/s-video) |
| Expansion: | 2 x USB ports / 1 ps-2 port |
Software would be embedded in a 16Mb Flash rom to reduce costs and improve load time. The Amiga DE (or specifically, the underlying Tao Elate technology) would provide the following functionality in version 1.0:
Personal JAVA certified JVM
Robust Escape v4.0 Browser HTML4.0/Javascript1.4/DOM/CSS/SSLv2/3
JAVA Media Framework Instant Messaging - ICQ
SimpleBox User Interface
Integrated WebMail
Optional DSL Service Bundle- Select Areas Only
Online updates would be delivered when necessary through an available Internet connection. The v1.1 online upgrade, planned for Febuary-March 2001 indicated the following functionality would be available:
MP3 audio streaming
Quicktime video streaming
USB Printer Support
An initial production run of 10,000 units was planned to begin in December, 2000. The hardware would be available in January 2001. However, the hardware does not appear to have entered production, possibly as a result of financial difficulties caused by the dotcom crash. The updated Frequently Asked Questions for May 2001 indicated the 'phase One' hardware had been abandoned and the company would move directly to phase two - development of a RISC-based device. The final reference to the wb8600 series was made in a press release (November 20, 2001) indicating the device was planned for release during the 1st quarter of 2002.
Internet Radio Device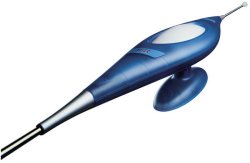 | | |
| --- | --- |
| Developer: | Meternet |
| Announced: | November, 2000 |
| Planned release date: | Early 2001 |
| Price (preliminary) | Unknown |
The Meternet FAQ for November 2000 indicated a second Java Internet device would go on sale. No information on technical configuration or software support were indicated. However, they suggested a release date of early 2001 would be targetted.
---
Related Documents
MeterNet teams with Amiga (September 20th, 2000)
MeterNet Press Release (September 20th, 2000)
SimpleBox wb8616JID Frequently Asked Questions (September 2000)
SimpleBox FAQ (May 2001)

MeterNet web site - the company remains in business, but does not contain any reference to the Amiga
Last Update: 22/04/2006