Developer: MacroSystems
Available: 1994 - Present
Cost: $14,995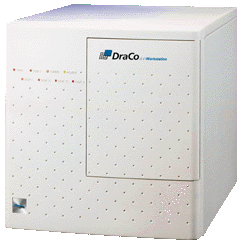 The Draco was the first Amiga clone to appear. Although the machine uses the AmigaOS, it does not incorporate the Amiga chipset. Instead it relies upon Cybergraphx RTG standard that outputs a display to its Altais graphics card. At 15,000 US dollars the Draco is not aimed at the ordinary Amiga user. It is sold primarily to the video market as a video editing tool. It offered many improvements over the high-end Commodore A4000 unit of the time. For the first time, users could utilize a unified memory structure, rather than the chip/fast ram differences of existing Amigas. Through the use of the bundled MovieStudio application, it was possible to utilize 3:1 M-JPEG compression.
Two variants of the Draco are known to exist
the first version was simply advertised as the Draco. It was sold in a tower case
the second version is advertised as the Draco Vision. As shown by the above image, it is sold in a cube case. Macrosystems have ceased emphasizing the AmigaOS capabilities, simply referring to the OS as "own".
The Draco hardware consist of two modules. The main expansion bus (called Rastaban) contains 5 x Zorro II slots and 3 x Dracobus slots. A further two slots are reserved for the 'Eltanin' motherboard card. The Eltanim card hosts the 68060 CPU, 4 x 72pin SIMM slots, an external SCSI connector and a socket for the Amiga ROM.
Specifications
| | |
| --- | --- |
| CPU | Motorola 68060 50MHz |
| Memory | 4MB (expandable to 128 MB using standard PS/2 EDO, 60 ns SIMMs) |
| Drives | SCSI-II hard disk & CD-ROM |
| Peripherals | PC keyboard, mouse |
| Other features | optional DEC-Alpha 233MHz co-processor |
Related Pages
Amiga User International examine the Draco
Big Book of Amiga Hardware: Draco
Eltanim & Rastaban images originally donated to the Big Book of Amiga Hardware by Sebastian and Pascal Sallan.
Related Pages
None
Last Update: 14/6/2002