DVD 1200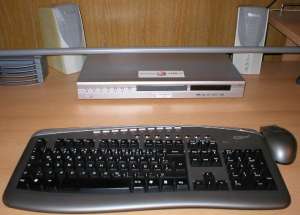 In the late 1990s it was considered impressive that an Amiga could be fitted in a tower or laptop case. However, it is no longer considered impressive to make the Amiga look like an ordinary Windows PC. Instead, dedicated DIYers are looking towards a new generation of cheap electronic hardware for their next case mod. The German Amiga owner, 'Fixi' chose to fit his A1200 motherboard into a slim-line DVD player case. The end result is reminiscent of Commodore's CDTV casework, reminding us of the Amiga set-top boxes that would sit under every TV.
The DVD player case contains an A1200 motherboard fitted with an unspecified accelerator card, a 2.5" to 3.5" IDE controller and a hard disk. The DVD drive has been replaced with a standard IDE CD-ROM drive. Sadly, the height of the motherboard and floppy drive produces a noticeable bulge to the rear of the DVD case. A quick glance at the rear of the case also breaks the illusion that you are looking at a modern day CDTV. This may be fixed by cutting a slot for the floppy drive in the side of the machine and modeling a stylish black cover for the rear of the machine.
DVD 1200 images are the copyright of 'Fixi' and are used for reporting purposes only.
Last Update: 22/06/2006