Amiga Anywhere: Entertainment Pack 1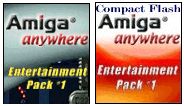 Developer: Amiga Inc.
Launch: 2nd April 2002
Platform: PocketPC/PocketPC 2002
Price:Download - 29.95 USD
Smartcard - 54.95 USD (US only)
The Entertainment Pack #1 is the first Amiga product to be marketed towards the consumer. In contrast to the Amiga DE Player and Amiga DE Party Pack, the Entertainment Pack is marketed towards the generic handheld market. Its release sparked controversy with the indication that it would only run on Microsoft's Pocket PC platform. Although the games can be executed on any Amiga DE/Elate supported platform, the Entertainment Pack does not include a virtual processor for other handhelds.
Available in two versions - download and flash card - the pack contains four games familiar to Amiga DE owners:
| | | |
| --- | --- | --- |
| SCREENSHOTS | NAME | DESCRIPTION |
| | Planet Zed | "Fly through space avoiding alien ships, mines, gun turrets, and asteroids as you make your way Through Planet Zed. This shoot-em-up game will provide an arcade experience from your airplane seat or during a board meeting. Stereo sound and great graphics help provide a dynamic gaming experience." |
| | Solitaire | "Why settle for the plain old Solitaire that comes with your PocketPC when you can experience 10 different type of solitaire. The fun includes Beleaguered Castle, Brigade, Klondike, FreeCell, Pyramid, Scorpion, Strategy, Triple Peaks, Vertical, and Yukon. Features include multiple undo, autoplay, easy-click moves, smart dragging, win/loss statistics, and saves games in-progress. Get all the solitaire experience you could want from one program." |
| | Gobbler | "Avoid many different types of obstacles as you guide a snake through 10 different playing fields in Gobbler. Take a trip through tunnels, over bridges, around cacti, and through castle rooms as you try to eat the blue diamond food without hitting an obstacle or eating yourself. The more food you eat, the bigger you grow and the harder it is to avoid eating yourself!" |
| | Convex | ""Don't leave anything on the floor, baby!" is the object to Convex. Move different colored marbles around the play grid and make same colored ones disappear by placing them next to each other. Levels become more and more complex as more marbles and obstacles appear on your grid. There is always a way to win – will you be able to work your way to the end of Convex?" |
The Entertainment Pack #1 can be purchased on the Amiga Anywhere web site.
Read the Entertainment Pack #1 Press release (10th April 2002)
Last Update: 12/6/2002